Purchase & Activate License
About the License
After the free trial has ended, a license is required to continuing using FormulaBoost.
Key facts about FormulaBoost license:
Licences are sold on a per machine per year basis.
Only one license can be bought at a time (unless making a group purchase by contacting support first).
Licenses can be activated anytime during the free trial and the remaining time on the trial, if any, is added to the license key.
Licenses cannot be resold.
Purchase Your Key
Purchase a license key by visiting the pricing page and clicking on the 'Purchase Now' button.
This redirects to checkout.stripe.com, a secure webpage hosted by Stripe Inc, our payment processor: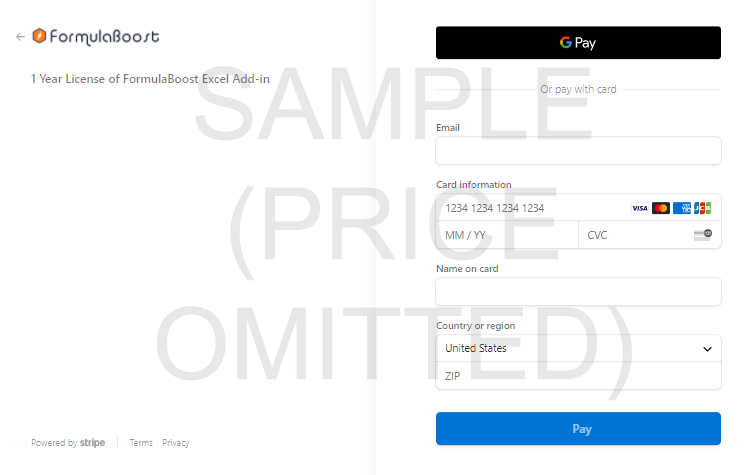 We do not store nor have access to your payment information, as stated in our
privacy policy
.
Once you have entered your information and clicked Pay, you will be redirected back to formulaboost.com where your license key and receipt information will be emailed to you and displayed to you as follows:
You have successfully purchased a license key.
Activate Your Key
Activating your license key is done within Excel.
If you have not already installed FormulaBoost, install it first.
Open Excel and click the Activate button within the FormulaBoost tab of the Excel ribbon.
This button opens the following window:
Enter both pieces of information and click 'Activate Key'. When successful, you will receive a message at the bottom of this dialog. Close both dialogs and reopen the 'About FormulaBoost' dialog. Note that the license expiry date now reflects your activated license key. Your key has been successfully activated.
The same process exists for repurchasing a license key. You will pay for a new (and different) license key which you will activate when the current license key has expired.